Looking for mcguinessdermatology.com?
About McGuiness Dermatology
McGuiness Dermatology & Aesthetics boasts a highly skilled staff and cutting-edge technology that is hard to rival. At its five locations in Texas, McGuiness Dermatology & Aesthetics is dedicated to helping all patients with every possible skin condition they might be facing.
The dermatologists at McGuiness Dermatology & Aesthetics are not only board certified and experienced, but they also have compassion for their patients. Dr. Michael McGuiness, Dr. Grace Brown, Dr. Shaily Kesani, and Dr. Leisa Hodges, as well as the very skilled Physician Assistants, all show they care by looking at every skin condition through a unique lens and making sure they get to the root of the problem every time.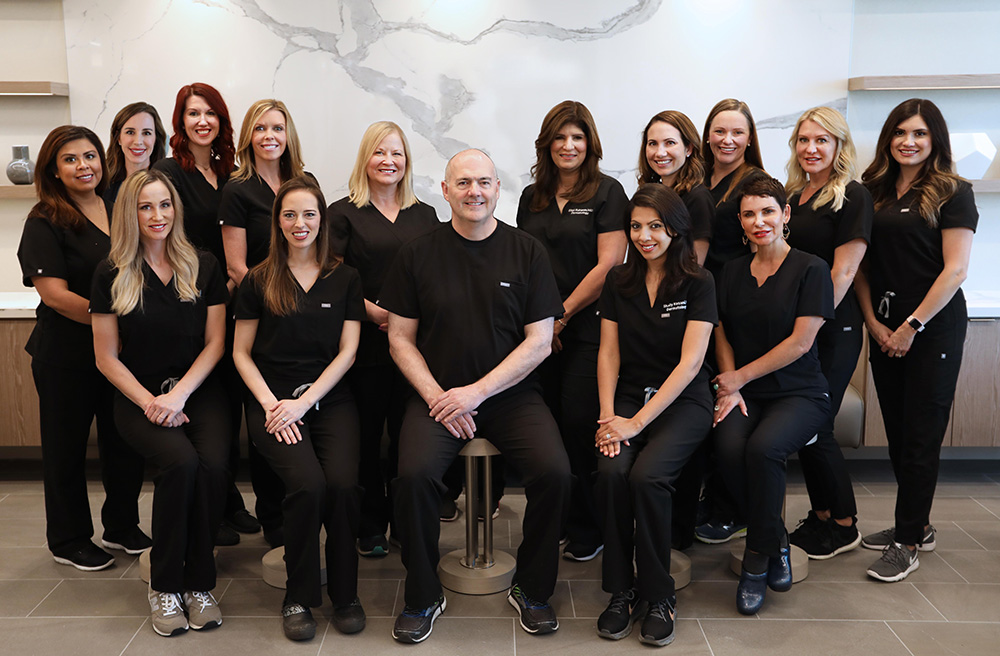 Cosmetic treatments range from laser procedures like CoolSculpting and hair removal to injectables like Botox, but they all require specialized medical training, a careful eye, and consideration for a patient's individual needs. There are a lot of aesthetic procedure options, so it is vital to choose a provider that understands the latest advancements and has the expertise to tailor treatments to your needs. Schedule a consultation with one of our cosmetic specialists to address your problem areas.
Non-Invasive Treatments
A Variety of Injectables & Dermal Filler
Dermaplaning
Microdermabrasion
Microneedling
Ultherapy / Skin Tightening
Double Chin Reduction
Cellulite Reduction
Eliminate Sweat & Odor
Body Contouring
Laser Treatments
Skin Rejuvenation
Facial & Leg Veins Removal
Hair Removal
Tattoo Removal
Scar Reduction
Brown & Red Spot Removal
Stretch Mark Reduction
Ready for a free consultation?
CoolSculpting - Freeze the Fat​
What is CoolSculpting?
It's an innovative way to contour your body by freezing unwanted fat away with no surgery or downtime. With more than 6 million CoolSculpting treatments worldwide, people everywhere are getting a better view of themselves, thanks to the one-of-a-kind CoolSculpting procedure.
What Happens During A CoolSculpting Session
The CoolSculpting device cools the area of your body being treated to a temperature in the low 40s F, for an hour. While the body area is being cooled down, you may (not guaranteed) feel some mild pain for a few minutes (usually less than four). You will not usually have an overall feeling of being cold during the procedure. While the treatment is in progress, feel free to read a book, use the internet, talk on the phone, or nap.
Recovery Time
After the treatment, you are free and able to get up and proceed with the business of your day. The treated area may be a little sore for up to two weeks, maybe less. You might have some bruising, but often not. The most common side effects are minor soreness in the treated area for several days, bruising, temporary numbness. About one in 500 treatments (almost always the large abdomen applicator) will lead to significant pain for 3-4 weeks. A very rare, and puzzling side effect, is paradoxical increase in the size of the bulge being treated.
Goodbye Stubborn Fat!
Please note, after your treatment, this technology allows your body to remove fat, in a natural way, not just shrink it. Once the fat is treated, it will be gone for good. There is no surgery needed. You do not have to change your diet or begin to exercise. No needles, no cuts, no sedation, virtually no limits on activity after treatment, and no garments to wear after treatment.
CoolSculpting Is Safe & Effective
The fat freezing process is FDA approved, and as of this writing, over 50,000 of these procedures have been performed. Different areas of the body are treated separately, not simultaneously. The most common areas treated are the abdomen, hips, "love handles," thighs, and bra fat on the back. Arms, chest (including male breast enlargement aka gynecomastia) are also done. Later in 2011 treatment for the front of the neck, or "turkey waddle" will be available.
Is Coolsculpting For Everyone
There are very few people who will not be able to have this procedure if they so desire. Those with special medical conditions whereby exposure to cold causes problems comprises the majority of these folks.
CoolSculpting by Zeltiq is not a means of weight loss. If you are very much over your ideal body weight, this treatment may not be suitable. Most but not all people interested in this procedure will be good candidates. It is a means of gentle, but noticeable body shaping utilizing localized cooling to remove fat gradually.
Does It Really Work?
CoolSculpting by Zeltiq is not a gimmick. Fat is gone permanently, even if you don't diet or exercise. It is based on proven science. It is safe. It works. Give us a call or schedule an appointment online to see if CoolSculpting is a good fit for you!
Learn more about what we offer
Dermal Fillers
Dermal fillers provide youthful beauty from the inside out. These injectable fillers reduce the appearance of age lines and facial folds by restoring lost tissue volume beneath the skin's surface.
Over the years, the matrix of collagen and elastin that provides structure to your skin begins to break down. This gives your skin a droopy appearance and may cause deep lines and wrinkles to form around your nose, mouth, and lips.
Dermal fillers use natural or synthetic substances, like hyaluronic acid, polylactic acid, and calcium hydroxyapatite to add volume and lift to your facial contour. The result is smoother, younger looking skin.
HydraFacial
HydraFacial is a noninvasive treatment that nourishes your skin and creates an instantly gratifying glow. This system provides the same revitalizing benefits as chemical peels and laser skin resurfacing without the irritation.
Unlike other skin treatments, HydraFacial is safe for even the most sensitive skin types. The entire process takes fewer than 30 minutes, so you can feel free to schedule an appointment on your lunch break.
Microdermabrasion
Microdermabrasion is not the same as dermabrasion. Dermabrasion is an exfoliation process that uses a high-speed rotating brush to remove the upper layers of the skin. Dermabrasion is used to give the skin a smoother surface and to improve the look of facial skin that has been scarred by an accident or previous surgery, or to treat deep acne scars. It is also sometimes used to remove pre-cancerous growths on the skin.
Microneedling
Microneedling is a safe and effective treatment for many skin imperfections, including acne scars and fine lines. The expert team at McGuiness Dermatology & Aesthetics offers microneedling with the SkinPen® at their state-of-the-art offices located in Plano, Flower Mound, Prosper, and Murphy, Texas. To learn how microneedling can revitalize your skin without surgery, call or book an appointment online.
Wrinkles
Various wrinkles may share the common attribute of making you look older than you feel, but not all wrinkles are the same. The team at McGuiness Dermatology & Aesthetics offers anti-wrinkle injections specifically formulated to treat moderate to severe wrinkles caused by muscle contractions, such as:
Frown lines between the brows
Crow's feet around the eyes
Forehead lines and wrinkles
If you have wrinkles caused by other sources, including sun damage or gravity, the team at McGuiness Dermatology & Aesthetics may recommend another treatment, such as dermal fillers.
Laser Hair Removal
Laser hair removal is one of the most popular and well-established treatments in cosmetic dermatology. Several different lasers are available, but the team at McGuiness Dermatology & Aesthetics use the Cutera excel HR, a premium laser technology that's proven safe and effective for all skin types.
MiraDry® Sweat And Odor Reduction
miraDry® is the only FDA-cleared treatment that dramatically reduces underarm sweat in as little as one appointment. Over 150,000 miraDry® treatments have been performed worldwide.
Permanent • Immediate • Non-surgical
Tattoo Removal
Laser treatment is the safest way to remove tattoo ink from your skin. Whether it's due to a new career or aesthetic preferences, many men and women who get tattoos end up wanting them removed.
The team at McGuiness Dermatology & Aesthetics offers the most advanced technologies in tattoo removal, including the PicoSure and enlighten lasers. Both these systems deliver ultra-short bursts of specialized light energy.
The rapid pulses of laser energy cause a change in pressure that causes the tattoo ink to break apart into tiny particles. Then, your body's lymphatic system absorbs and eliminates the particles naturally.